Finding the right candidates can be a daunting task. Before you invest your time in all of the details you want to share with potential job candidates, we have some points for you to consider to create an effective and competitive job post.
Since 2016, Jobble has hosted a nation-wide job board with hundreds of temporary and hourly jobs. While this is only one part of our business, it is one that we have invested time and research into. Through the years, our team has observed what works for businesses and what doesn't. This information is frequently used to advise companies looking for workers and now you can learn what we've found makes a competitive job post.
"Now more than ever, the competition for hourly works is at an all-time high," says Nicholas D'Ascensao, Vice President of Strategy at Jobble. "Work has become much easier to find, and because of this, the rules have changed. Put your best foot forward right out of the gate. Do not go halfway into your search for talent, or you will forever be buried in the consciousness of your local workforce."
Pay Rate & Earning Potential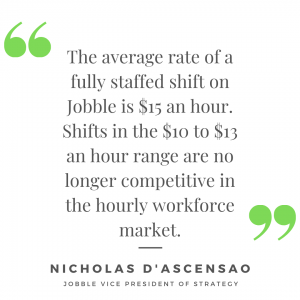 A study conducted by Indeed.com found that quality candidates are more likely to apply to a job if salary is included in the job posting. This is even more true for temporary and gig work. Including compensation is a vital part of an effective and competitive job post. If a worker is combing through dozens of job postings, they will be looking for competitive pay (both the hourly rate and the potential total earnings).
"I always tell our clients that Jobble is the most active hourly workforce in the country, but it's also the most competitive," says Jobble Account Executive Erik Nemes. "To attract workers you need to highlight what's important to them and that includes the hourly rate."
There is an inherent competition in the gig economy which pits workers against each other to grab jobs as they're available. But this also means that workers are making quick evaluations about the jobs they want to apply to. In a filter-able job board, pay rate could be the difference between your post being buried at the bottom of the pile or rising to the top.
According to Priceonomics, about 85% of gig workers make less than $500 a month, which is about $6,000 a year. If you offer them a job with a competitive rate for the area or with a repetitive schedule, a worker could be more likely to choose your job over another.
Job Information & Description
If you are firm on your pay rate or the hours you need to fill, there are still adjustments you can make for your competitive job posting.
"Consider what impacts a worker's desire to pick up a job, like rate, shift time and shift duration," says Customer Success Manager Sara Avellar. "Think about what might prevent people from applying and explore what you can do to impact that. If you can't compromise on the rate take a look at your start time and duration, then move on to what else you are sharing in your job post."
According to Avellar, here are key items to consider while optimizing your competitive job post:
Shift Time and Duration: An accessible job during traditional work hours that repeats over weeks may be more attractive to a worker than a short shift during off-hours.
Job Title and Keywords: Think about what a job seeker wants. It might be different from what your company needs. Utilize common keywords and simple titles that are transparent and easy to understand.
Be Concise and Clear: Long blocks of text can be intimidating to a potential worker. This can cause them to exit out of your job post or simply scroll by. Plan on being concise and direct. Communicate the most important information (like duties and experience needed).
It is worth your time to craft a strong job post that stops the scroll, catches applicants' eyes, and prompts them to apply before they miss out on a great opportunity.
Time Before the Shift & the Opportunity for Future Work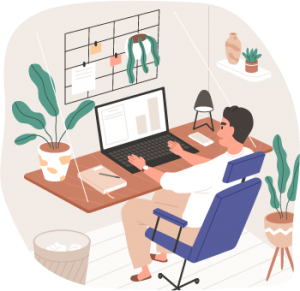 Timing is crucial in a workforce that focuses on flexibility. At Jobble, our business partners are the most successful when they post a job at least 3 days before the first shift begins. This gives workers enough time to review all important work information, plan their transportation and feel prepared to work.
"The best workers already have opportunities and commitments," notes D'Ascensao. "Give them at least 3 to 5 days between the job posting and the first shift. This not only gets you the best workers, but also minimizes the amount of no-shows."
In addition to posting to give workers enough time to prepare, gig workers appreciate jobs with future opportunities. It shows them that applying and investing their time in one job or shift can have ongoing benefits in the form of future work.
D'Ascensao says, "Hourly workers want and love consistency – if you are looking for workers for the next month – post it all upfront because the more you can show the community you are committed to this long term, the more hourly workers will be committed to you."
Need More Advice?
At Jobble, we have a dedicated team to support businesses as you optimize your hiring flow to develop competitive job postings. Consider creating an account or scheduling a demo and we can get you connected to a team of ready-to-work Jobblers as soon as you need them!