Don't reinvent your hiring process – just make it easier
Jobble serves up thousands of jobseekers anywhere in the U.S. to suit your unique hiring needs on a per-job basis. Tell us what you want - we'll get you what you need.
Still have questions? Request a demo.
Trusted by Over
14,000

Companies
Meet your new favorite hiring solution
Take back your time and ditch traditional staffing agencies that exhaust your resources. Recruit, screen and onboard in one dashboard.
STAFFING AGENCY
Hourly fees
Temp-to-perm conversion fees
Retainer minimums
Contracts
Limited control over hiring
Traditional resumes
Does not provide worker insurance
Time to hire: Weeks to Months
JOBBLE
One fixed platform fee
Free to hire Jobblers permanently
No minimums
No contracts
Transparent hiring dashboard
Jobbler ratings and reviews
General Liability, Auto & E&O Insurance
Time to hire: Days

SEE HOW IT WORKS
Post a Job
Get the Job Done
Use Jobble to find local workers, when you need them.
Post a Job
Engage with our Workforce
Tap into an audience of over 2 million Jobblers that are actively seeking work.
If you are a company who could benefit from engaging a flexible workforce, we're here for you!
Post a Job
Post a Job
Enter the details, set requirements, and select pre-screening questions.
We will notify all qualified Jobblers within a 30-mile radius so they know to apply!
Post a Job
Select Your Jobblers
Review profiles and handpicked your team.
Provide additional shift details and information to your hired team through our in-app messaging.
Post a Job
Set Shift Expectations
Let Jobblers know what to do when they arrive on site.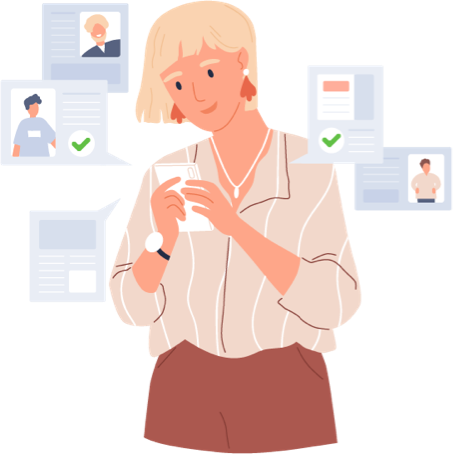 Jobblers are required to Check In and Check Out of each shift on the app.
Post a Job
Pay, Rate and Review
Initiate payments, rate and review all at once.
Fast payments and positive ratings help the best workers rise to the top.
Join the thousands of business partners who use Jobble as a tool to reach workers everywhere.
From Temps to Part-Time Employees, Wendt Group Builds a Core Team
"Signing up with Jobble has been the best business decision we have made yet. There are so many high-quality staffers available—I was so surprised when I had over 20 candidates for the first job I posted. We now have a flexible team we can call on for any of our events who understand our needs and are self-sufficient onsite."
– Lisa W., Marketing Solutions @ Wendt Group
Nationwide RDS Uses Jobble to Reduce Attrition Rate
"We can now focus on growing our brand while providing best of class delivery services."
– Andrew S., Nationwide Restaurant Delivery Service
Red Frog Events Hires a Team of 500+ for Firefly Music Festival
"It feels like Jobble is as invested in the success of our events as we are. Jobble was a huge asset in helping us meet our last minute staffing needs. If Jobble weren't available it would be a big step back for us."
– Emily L., Staffing Operations Executive, Red Frog Events
Questions? Look here.
Our Jobblers carry their reputations with them - when they express interest in your contract, you get to see their reputation, profile, answers to custom questionnaires. They choose how much control or oversight they want, but we never block it or limit transparency.
Background checks are usually the only vetting methods people have. However, we have the benefit of looking at people's work history with us, and we hold people accountable. Workers are screened through SSN, etc to make sure they are eligible to work in the U.S.
With Jobble, there is no contract, no hidden costs. You're only responsible for paying people that show up and do the job as expected. Just post your job with the hourly wages you are going to pay and we add our Jobble platform fee.
Our sweet spot is 48hrs. Depending on the location and number of people you are looking for, get applicants within two days of your posting.
Nobody has a perfect solution yet- but we look at things like activity and responsiveness to ensure reliable candidates, and we also over-hire to account for average no-shows. Companies can cut the workers that they end up not needing.
Can't find an answer? Head to our Resource Center