How to Effectively Communicate Job Details in Your Post
Avoid applicant information overload by making deliberate communication decisions.
Take the time to think about what you present to job applicants and what you exclusively share with your hired team. All of the information may be important, but the time you share those details can have an impact on comprehension and understanding. If you effectively communicate job details, you'll end up with a well-informed team.
Details in your Job Description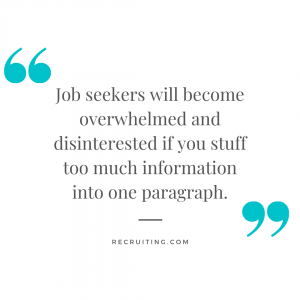 Your job description is the most important piece of content you will create to generate interest in your opening. This is your opportunity to provide direct examples of skills or experience you are looking for.
Some applicants may be turned away by lengthy descriptions while others may see it as a positive sign. Consider the type of applicant you're looking for and the job you need to fill when deciding on the amount of detail to include. Don't be afraid to break up your information into pieces that are easier to read and understand.
Job Title and Duties
It's tempting to post your company's catchy job name and jazzy description. We challenge you to think about what a job seeker will search for. If you are hiring for a brand ambassador position, using the title "Happiness Guru" might not help you land in someone's search results. Similarly, a description of "Assists with duties as needed" may be accurate but doesn't actually give any insight into the role.
We're not saying that you can't be creative. Be mindful of the types of keywords and phrases a seeker will look for. Once you catch their attention, you can add flavor to the description. At the end of the day, what they're really looking for is the title is the job expectations.
Desired Experience
This is the space for you to put your ideal applicant into words. List examples of similar job titles or positions and name specific experiences you'd want an applicant to have. Also, mention any soft or hard skills that would benefit someone in this role. It's important to mention how flexible you are with your "wish list" so you don't scare off a potentially good fit.
Necessary Materials
Be sure to include any necessary materials this role requires. A delivery position could be done by someone on foot, bicycle or car, so explicitly state what you're looking for. If there is a strict uniform the worker needs to follow, provide that information in the job description. This also applies to certifications and training. You may be flexible with what you're asking for with desired experience, but necessary materials should be non-negotiable.
Communicate Job Details Effectively
After you've chosen your team, it is important that you communicate additional job details to keep them engaged. Providing more relevant information gives you an opportunity to stay at the top of your new hire's mind while assuring them that you are prepared to receive them when they start work. You could reiterate or expand upon what you posted in the job description. We think this is a better opportunity to provide supplemental information that will help the new team member succeed.
Transportation to the Site
Ideally, either you or your applicant would have brought up transportation before you made a hiring decision. Before their first day, reach out to your new hire and review any relevant transportation information.
Company shuttles, nearby public transportation, walking routes or preferred parking locations can help the worker feel more prepared and cared for. You can also give context to how long "arriving on site" can take and remind the worker to plan that into their commute time.
On-Site Information
Do your best to provide all necessary on-site information to your new worker before their first day. It is good practice to give them a contact and phone number that they can call day-of if they have questions. Be detailed about where they should check in, who they should ask for, and where they should go when they arrive. This can make their first time on-site less daunting.
Other pieces of information worth sharing are: break room availability and practices, prohibited items, security checkpoints or secure areas, and any credentials or passes they may need.
Constantly Consider Your Approach
Don't let the hiring experience end when you hire a new team member. If you successfully onboard a new worker, it is worth your while to ask them about their experience. This gives you an opportunity to see if you should tweak anything in your strategy (maybe use a different template, emphasize different benefits, or post on a different platform).
At the end of the day, you want to see the best applicants, sort and qualify them quickly, and make the best hires who will not only show up once, but repeatedly. Follow these tips and adjusting your process as you go. Soon, you will find that you can effectively communicate job details in an organized and digestible manner.