With the pandemic still present, Americans have seen drastic changes to their everyday schedules. Many have started to prepare more meals for themselves at home. Although it might seem easier (and cheaper) to order something out for dinner, you'll actually save more money if you make something yourself. It's possible to balance a busy life with a healthy lifestyle, and it's not as hard as you might think to get started.
Some people find planning meals and cooking to be their passion. Others might see it as a chore. Whether you're a home chef or you're someone looking to make better meal choices, I'm here to help you save time and money by making mindful decisions. With planning and practice, you'll find yourself balancing your busy life with a healthy lifestyle in no time!
Plan Your Grocery Trip
Grocery trips can be chaotic. You might go more than once so you can have fast trips, or you might spend hours trying to remember everything you need. One tip I often share for making shopping trips painless is to plan your grocery list. If you're new to cooking at home (or if you are trying to minimize how often you order out), the first step I suggest is researching some good recipes to try!
One quick hack to save time is to always cook enough for one round of leftovers for your household. This way, you will cut the amount of kitchen time you need in half.
To stick to your budget, check to see if your grocery store has a weekly flyer – build your meals around what's on sale that week. It might just have you trying something new. When you're shopping, you should resist grabbing impulse items. Stick to your list and your plan.
Next, when planning your grocery list, add your recipes, then, organize your list. For instance, I start writing my grocery list recipe-by-recipe. Then, I re-organize it to mimic the layout of my grocery store (produce first, then dairy, meats, and pantry). Check out how I organize my list, below: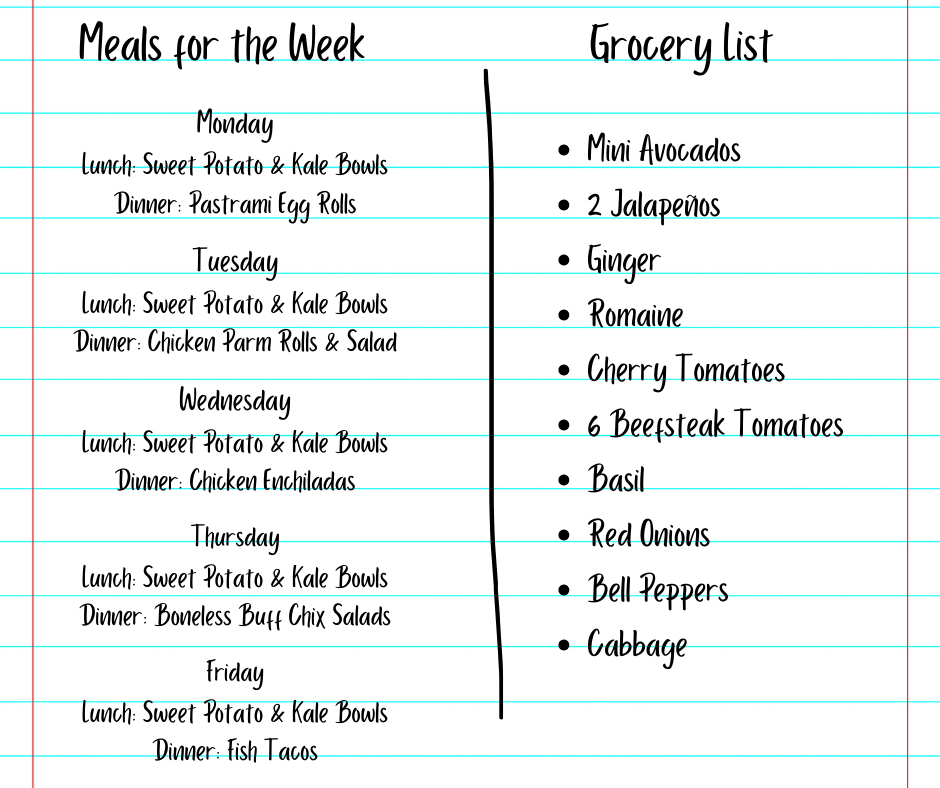 Planning your week's recipes helps you identify the ingredients you need when you go shopping. It can also be a time for you to reassess your meals. Maybe you can find recipes with similar ingredient lists so you're buying less from the grocery store.
Eliminate Food Waste
In order to stretch your wallet, make sure to plan realistically! We want to avoid food waste. You wouldn't throw cash in the trash, so you shouldn't be throwing away produce or uneaten food.
While it can be tempting to buy items in bulk when the per unit price is lower (for instance, purchasing a 5lb bag of sweet potatoes when you only need 2 individual potatoes), resist! Purchase only what you need. Being overzealous can lead to wasting money and food.
Another trick is to preserve fresh ingredients that you won't use before they go bad. Here are a couple of examples: If you have bananas that are about to go bad, you can make banana bread or you can peel and cut the bananas so and freeze them in an air tight container. You can save fresh herbs by placing them on a parchment paper-lined baking sheet and baking them in your oven at the lowest possible setting for about 30 minutes.
Meet Your New BFF, Your Freezer
When in doubt, toss it in the freezer! A good tip I have for folks who are trying to implement more home cooking in their diet is freezing any meats or veggies not used within a couple of days of coming home from the store. Why? Because you can always defrost the frozen food to cook later, but you can't travel back in time and freeze the items once they have gone bad.
If you have unused veggies, you can blanch them first and then freeze them to use later. You can freeze garlic cloves, too! Instead of freezing the entire package of chicken breast, portion out one recipe's worth for your family. For example, I often buy packs of 6-8 chicken breasts and freeze them in sets of two breasts so that I can easily pull out what my fiancé and I need.
Set Your Meal Prep Day
Making meals ahead of time, or "meal prepping" can save you a ton of time (and, let's be honest, sanity). I like to pick two days out of the week where I know I will spend time cooking. For me, that is normally on Sunday and Wednesday, but you can pick any days that work for your schedule.
On these meal prep days, listen to some music, put a show in the background, or have your spouse/kids/roommate help you! This should be a fun time, and it's a crucial part of healthy self-care. Whether you're utilizing recipes or cooking from scratch, this is your time to focus on the food and nothing else.
Cook Simple, But Delicious and Nutritious
Whether you are trying to hit your daily fiber goal, cut out processed foods, or maybe you are looking to simply try new foods, always keep your end goal in mind when meal planning and prepping. The simpler the meals, and the more customizable, the better.
A great example of this is build-your-own-bowls. I often make chicken kabobs on Sunday along with a big batch of rice. Then, I wash and cut my produce (romaine, cherry tomatoes, and red onion) and store those veggies in the fridge, pre-cut. Throughout the week, my family can grab these different components (rice, chicken, produce), and build their own bowls. If one family member is vegetarian, they can have the roasted veggies. If one family member is lactose intolerant, they skip out on the feta! Also, if you have picky eaters, don't over season or sauce the food – instead, offer sauces separately so your family can make their own meal from the cooked components. This prevents food waste and also teaches others to put together a balanced meal. 
Treat meal prep like a meeting or a doctor's appointment. Schedule it in your calendar and don't skip it! You can't reschedule your health, and that chicken isn't going to cook itself. Remember that cooking meals for yourself and your family is self-care and will help fuel you for the week. If you want to tackle all of the things on your busy schedule, you need to make sure your body is ready to handle it.
Set Your Realistic Commitment Level
Start small, and take your time! Remember, small, repeated actions turn into long-lasting routines. So maybe you start out by preparing all of your lunches that week – it doesn't have to be hard! Maybe you can create bento boxes with hard boiled eggs, cut cucumbers and carrots, pretzels, and some dressing for dipping.
Make meal planning work for you. Stick to minimal prep, and recipes that focus on one-pan! The less cookware you use, the less you have to wash later on. One of my favorite one-pan meals is a lazy eggplant parm, and of course a chicken pot pie. Also, rotisserie chickens are your friend! They are inexpensive and you can get so many meals out of them. Take the skin off when you get home a d break the bird down, and shred the meat with your hands. You can use the chicken all week long! 
Don't forget to have fun with it! Cooking a meal should be relaxing. By making and following a plan from picking a recipe to cleaning up after you cook, you teach yourself to make focused and mindful decisions. If you follow these tips, you'll find yourself saving time and money. But, if you're ever crunched on time or find yourself looking at a failed meal, having a prepared meal from Freshly or HelloFresh isn't a bad back up plan!
---
About the Author: Allie Hagerty received her B.S. in Human Resources Management from Bentley University in 2015. She currently sits as the Head of Human Resources at Jobble. Allie spends her free time working on her food blog, Seasoned and Salted, which focuses on easy recipes and cooking tips. Growing up as a fishmonger's daughter, Allie has always had a passion for cooking and is constantly sharing her meals with her fiancé and sometimes her dog, Goose.