Two months ago, businesses shuttered as Americans united to flatten the curve after the coronavirus outbreak. Now, we find our country at a crossroads. Some states are preparing to open their doors while others continue to wait out the storm. Regardless of how close you are to returning to business as usual, consider these points as you make your reopening plans in a post-COVID-19 America.
Reopening will look different state by state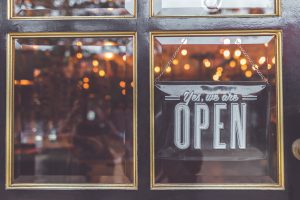 Before you think about turning on the "We're open!" sign, make sure you understand your local regulations. Stay-at-home orders and safety guidelines can vary by city, region and state, so consider each area's reopening plan to understand its impact on your business. This will be even more important if you operate in more than one area.
"Opening will be in phases, which will differ regionally. Even within states, expect local variations based on county-by-county data," Bill Conerly wrote in an article for Forbes. "The key elements are to monitor caseload, have capacity to handle a resurgence of cases, as well as a capability to test and trace on a much larger scale."
Keep local plans at the forefront of your messaging as you begin to reopen. Workers and patrons will want to be reassured that your business is taking the advised precautions before they feel comfortable returning. Messaging and plans in one location may not accurately address the climate in another area.
Consider your workers' & customers' feelings
You also have to consider these two major influences on your business's success:
The readiness of your workers to return

The willingness of your customers to arrive
According to an article by U.S. News, "Most Americans say they're wary of trying to return to business as normal now. A Pew Research Center survey found that 68% said they feared that state governments would lift restrictions too soon. Just 31% wanted restrictions lifted sooner."
If your staff was furloughed or downsized, reach out to them to assess if they are interested in returning to their job. If they are, you should review any adjusted safety and sanitation plans you put in place for their return. It is also helpful to set expectations on how many days and hours they should expect as you reopen.
You might need to consider hiring temporary workers if your previous staff isn't responsive or doesn't plan to return to their previous positions. Your temporary workers could become permanent solutions down the line, so it's helpful to consider this possibility as you add to your team.
Some businesses will see a spike in demand once they reopen. Salons and barbershops could allow customers to make reservations far in advance in preparation for a high increase in demand once stay-at-home orders are lifted. Restaurants may utilize reservation systems to plan for the return of dine-in patrons. Retail stores should be mindful of social distancing opportunities when shoppers return to historically congested areas. Keep these scenarios in mind as you make plans for your business and find direct ways to communicate with your customers so they understand your process.
Keep an open channel of communication
Both your workers and your customers will want to know when and how you plan to reopen. You need to consider how you can keep both appropriately informed.
An article by the U.S. Chamber of Commerce suggests that employee communication plans across multiple communication channels "should provide thorough, accurate information about physical workplace changes and safety measures, as well as set appropriate expectations for following new procedures." Be sure to provide an avenue for workers to submit questions they have about returning to work.
The same article stressed the importance of providing accurate information to your customers. Salesforce recommends taking the time to understand your consumers' needs so you can better tailor your services to what they are looking for. Including key pieces of information like operating hours and any change in services can help patrons feel better informed.
No matter when you reopen, it's important to take the right steps and considerations before you do:
Be being mindful of each state and city's area regulations

Consider your employees' and customers' feelings

Keep an open channel of communication
If you follow these guidelines, you can find yourself on the right side of reopening your business.