Introduction to seasonal hiring
Workers seeking seasonal roles can be choosy about which opportunities they pursue. Current trends indicate that across industries, businesses are competing for the best talent in the face of increased demand for peak season hiring and an uptick in competitive wages that rise annually. In 2021, Amazon announced they would hire seasonal workers for 150,000 roles across the country. They offer all team members—seasonal or not—an average starting pay of $18, sign-on bonuses of $3,000, an extra $3 per hour depending on location or shift, and career advancement pathways to full-time work.
An increased demand for workers has impacted seasonal hiring leading up to the holidays; retailers everywhere are scaling up. Businesses need to be proactive about understanding the new seasonal hiring landscape to build a seasonal staffing plan that works. We've compiled The Complete Guide to Seasonal Hiring to get your team started on the right foot.
What is a seasonal employee?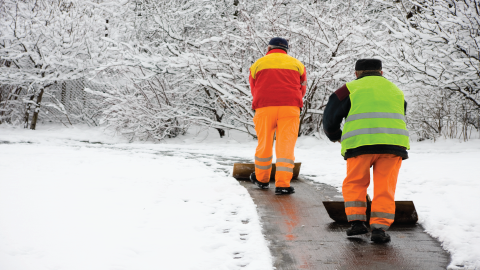 A seasonal employee is an individual hired to provide short-term assistance during a busier time, on either a part-time or full-time basis. The need to hire seasonal employees usually follows seasonal peaks that occur around the same time annually. Retail and warehouse operations staff up in anticipation of the winter holiday season, and sometimes additional support is needed when regular employees take off during the summer holidays.
How seasonal workers can help
Fewer employee benefits costs: For part-time seasonal employees, benefits packages are usually minimal. You'll save by not paying the full cost of an annual salary.
Support for full-time staff: Providing much-needed support to your core team boosts morale and helps combat burnout. Your people need breaks, more so when it's a busy time of year.
Lower risk of fit issues: You can only guess whether new hires will be the right fit. Low-commitment seasonal work reduces the risk for employers and the employee.
Potential full-time employees

:

Short-term work is like a trial run for standout seasonal hires.

This is a great way to recruit the best talent for permanent positions.
Industries that use seasonal labor
Warehousing & Manufacturing
Retail
Delivery
Events and Holiday-Based Events (includes Event Parking Attendants & Valets)
Landscaping
Moving – Learn how to hire successful movers
Tips for hiring and retaining seasonal employees
Navigating how to hire seasonal employees is like navigating how to hire full-time employees, but with added considerations to make the most of their limited time with your team. Take the time to develop a strategy for recruiting seasonal employees to start your season smoothly.
What challenges are hiring managers facing hiring seasonal workers?
Seasonal workers are more likely to have applied to multiple companies; it becomes more difficult to hire as the season progresses. It takes time and effort to manage a budget as a seasonal worker. Some seasonal workers are also actively looking for permanent positions and could leave part way through your season. Being proactive about your hiring strategy can mitigate the effects of these challenges.
Hiring tips
Start early: If you're starting your hiring process just a couple of weeks before your target start date, you've started too late. Your competition is picking from the same candidate pool. When developing a hiring timeline, leave enough ramp-up time for training and onboarding.
Write a clear job description: An engaging, transparent job description lets job seekers decide if yours is the right opportunity for them. It also helps them see themselves at your company. Include pay rates, start/end dates, required skills, and benefits or perks.
Ask good interview questions: Strategically-chosen interview questions can help weed out candidates that aren't a good culture fit. They can also clarify potential scheduling conflicts and illuminate any transferable experience.
Look for the right people: Focus your recruiting strategies on job seekers that want seasonal work. Seasonal work may appeal to retired workers, stay-at-home parents, college students, or digital nomads.
Recruiting strategies
Social media: The people who follow you online are already invested in what you do. Compared to the average person, they are more likely to be interested in working for you. They are also more likely to share your job listings.
Use your networks: Offer a referral bonus to your current employees. It may be worth it to reach out to former employees who are familiar with your busy season; they have added potential for training new hires.
Job platforms like Jobble: Working with Jobble gives you immediate access to a vast marketplace of independent gig workers and helps you avoid warehouse hiring mistakes

.
How do hiring managers improve upon the seasonal hiring process?
Try conducting an exit interview when your busy season comes to a close. You'll get valuable information about what worked and what didn't. Proactively asking outgoing employees about their availability for upcoming seasons or their interest in full-time work can help reduce your workload next hiring season.
Retention Strategy
Offer a bonus: If your budget allows for it, a financial incentive can set you apart from your competition. Think about signing bonuses for immediacy and/or 90-day bonuses for longevity.
Treat them like your full-time staff: The worst thing you can do is make your seasonal employees feel disposable. Hold them to the same standards as your full-time employees, and make them feel like part of the team. They'll be more likely to come back next year.
Flexible schedules: Offering non-traditional schedules that allow seasonal employees to work flexibly around their pre-existing commitments can set you apart from your competition.
Save money and reduce risk with seasonal hiring (and temp labor)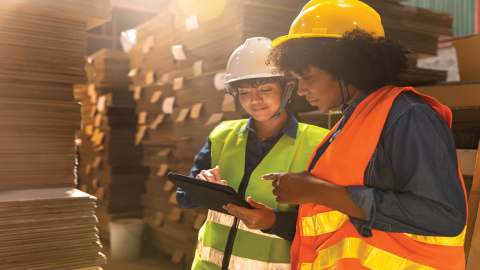 The benefit of conducting seasonal hiring and bringing temporary labor onboard is that your company saves money, and mitigates common staffing risks. Full-time employees are already trained, dependable, and versed in your company's culture; temporary solutions are perfectly appropriate if your company only needs additional support seasonally.
How does seasonal hiring save my company money?
Hiring seasonally saves your company the cost of an annual, full-time salary. It may allow you to sustainably pay your existing full-time employees year-round. Take the time to review your salary budgets and create a plan for staff salaries. There are several ways to save money when working with seasonal employees.
Money saving tips
Review your benefits: You may not be able to provide a benefits package to your seasonal employees, but you can offer "wellness days" or other low-cost services.
Offer non-monetary perks: Does your company offer a great employee discount? Access to events or programming? Do you provide healthy lunches? Make it known!
Write letters of recommendation: Help set your seasonal employee up for success in their next big endeavor.
How to effectively train and manage seasonal employees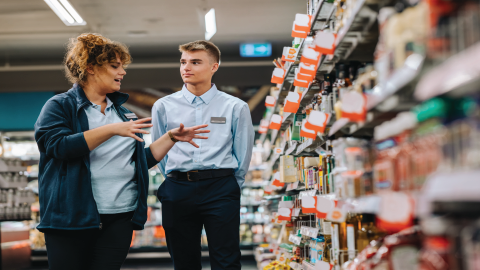 Simply hiring seasonal employees is not sufficient when preparing for a busy season. You'll need to implement effective training and management procedures to avoid inefficiencies and employee errors. Think through what your new hires will need to be successful in their seasonal roles.
Training tips
Standardize your onboarding process: A training checklist ensures your new hires are learning everything they need to get up to speed quickly.
Focus on need-to-knows: Your seasonal employees only need to know the things that allow them to do their jobs. Communicate this to your regular full-time employees, and make sure they are well-equipped to support seasonal employees when needed.
Offer online or advanced training materials: Allowing seasonal employees to complete some training on their own time can expedite the training process.
Management tips
Keep communication open: Do your seasonal employees know who to go to when they have questions or concerns? Is that person actively engaging them? Open lines of communication allow seasonal employees to develop trust in their managers.
Utilize regular staff: If managers are spread thin, recruit your reliable full-time employees into trainer roles. Seasonal hires benefit from the example, and this encourages good inter-team relationships.
Reward good work: People are driven by praise. Highlight what is going well for your seasonal employees to inspire repeat behavior.
What are the legal requirements for hiring seasonal workers?
How long can you keep a seasonal employee?
The Affordable Care Act (ACA) defines a seasonal employee as someone hired for a position generally six months or less a year, during the same time annually (e.g. summer or winter). The IRS has its own rules for seasonal employees and employer requirements.
Do seasonal workers get holiday pay?
You are not required to pay holiday pay to seasonal workers; this is done at the company's discretion. Outline your pay structure before onboarding.
Requirements to consider
Do you have to pay overtime for seasonal workers?

The

Fair Labor Standards Act (FLSA)

requires most businesses to pay an overtime rate of one-and-a-half times the regular pay rate for hours worked beyond 40 hours each week. This includes seasonal employees. State and federal labor laws exempt certain businesses.

Withholding: Employers must

withhold taxes for federal unemployment

, Social Security, Medicare, and so on, even for seasonal employees.

Minimum wage: Employers must follow minimum wage requirements. Most states have a higher rate than the federal government, and that is the rate that must be used.
Done well, seasonal hiring is a savvy business solution that can help your company meet its goals and attract top talent. Bookmark The Complete Guide to Seasonal Hiring and use it to guide your company's next hiring season.
Ready to become a staffing expert?

About the Author: Meghna Jaradi is a freelance writer and events manager with experience working for the Seattle Times, Kitchen Arts & Letters, Book Larder, Peddler Brewing Company, and more. You can contact her on LinkedIn.