Capture Your Personality in a Photo – Tips & Tricks for a Great Profile Picture
Your favorite photo of yourself might be a great profile picture for Instagram or Facebook…but is it the right one for a job application?
When a hiring manager has hundreds of applicants, you want to make sure your profile picture has the chance to shine. You feel great about answering their interview questions, but did you think about the profile photo you've chosen? There are a few things to consider when trying to take a great profile photo. Here's how you can find the right balance of personality and professional.
Virtual Visual Introduction
There's nothing worse than seeing a default avatar or "No Photo Available" when you're trying to get a first sense of someone. If you're given the chance to make a quick little introduction, put your best self forward.
"Managing your personal (and professional) brand is the key to successful networking, job placement, and career development," said Allie Hagerty, Director of Human Resources at Jobble. "Having a proper photo represented on your profile (whether on Jobble's platform or on LinkedIn) is helpful in managing your brand before even meeting a hiring manager or recruiter."
You can hire a photographer or go to a studio to get professional headshots done, but you can also take great photos on your own. Here are a few tips on how to take and choose photos that can help you stand out.
The Right Elements For Your Profile Picture
There are a couple of key elements to keep in mind when getting ready to take your photos (or when deciding to upload).
Background: Finding the background can be the biggest challenge, but you don't have to overthink it! Let yourself be the main focus. Finding a clear wall or something with a simple pattern is perfect. Ideally, you also want to find an area near a window to have natural light help brighten your shot.

Lighting: You don't need a professional lighting kit to take a nice, clear photo. Make sure your camera and the light source are both facing you so you are well-lit for the photograph. Facing a window is a great way to get beautiful natural light. If that's not an option, you can use a lamp; just make sure the shadows don't change your appearance!

Pose: Posing can be intimidating, but keep in mind that you want to take a handful of different shots. Headshots are the best pose. Photos will often be scaled down to a thumbnail, so make sure your face is clear and easy to see! If you're setting aside time to really nail your perfect photo, cover all of your angles before you put your camera away. Outfit changes are okay too, especially if you feel more confident in one outfit over another.
Putting the Best Picture First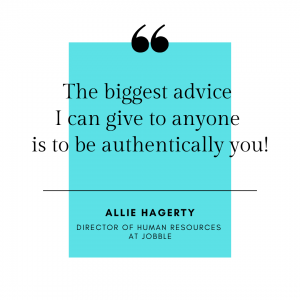 So now, hopefully, you have some photos that you're proud of and want to add to your profile. But, before you do, here's one more thing to consider– which one comes first?
The first photo you upload is your primary profile photo. This is the first (and maybe only) visual that a hiring manager sees. You want this photo to be a clear visual of what you look like while also adding a little personality and flair.
Don't feel pressured to add too many photos. Each photo should have a purpose: think about what you want a hiring manager to think when they look at it.
According to Allie, "the best photos I've seen represent the person on a daily basis. Don't wear contacts in your picture if you prefer to wear your glasses everyday. Have a shade of lipstick you rock on the daily? Wear it in the photo. The biggest advice I can give to anyone is to be authentically you!"
If you follow these tips to take and choose a great personality photo, you'll find yourself jumping out of application pools, landing jobs and building your gig worker reputation in no time!