If you're an independent gig worker, you've probably visited plenty of job boards while looking for work. From Craigslist to your local coffee shop's bulletin board, you've searched for real, legitimate job opportunities that pay. Jobble puts local jobs and deals at your fingertips every day, and some of the opportunities on our Jobble board pay out their shifts through Jobble. Here's your quick guide to knowing how, and when, you can expect Jobble payments. If you need help, you can visit our 24/7 online resource center or contact our Support Team.
How do I know if I'm being paid through Jobble?
When you're browsing the Jobble app for your next gig, you'll see all of the jobs hiring near you. When you click on a job and want to apply, one of two things will happen. You will either be taken to a company's external site to apply, or you'll apply through the Jobble app.
If you apply through the Jobble app, then that job is managed and paid out through Jobble. That means the hiring company uses the Jobble app to hire, contact and pay their workers. Jobble payments are only made through direct deposit. Your payment method needs to be set up in the Jobble app. Payments can be made to the debit card, bank account or prepaid debit card attached to your Jobble profile.
Payments are made through Stripe, a certified PCI Service Provider Level 1. They keep your banking data secure as funds are transferred when your job is completed. They also confirm your work authorization and help capture data for tax purposes, which is why you're asked to provide your full legal name and Social Security Number when you sign-up.
How are my hours recorded?
When you're hired, you'll receive information about confirming your shift so your manager knows you're coming. After confirming your shift, you need to make sure you check in and check out on the Jobble app at every shift. You also need to check with your on-site manager for any physical timesheets they may have. If you ensure you do both the in-app and physical check in and out, you are taking the best proactive steps to ensure your shift is accurately recorded.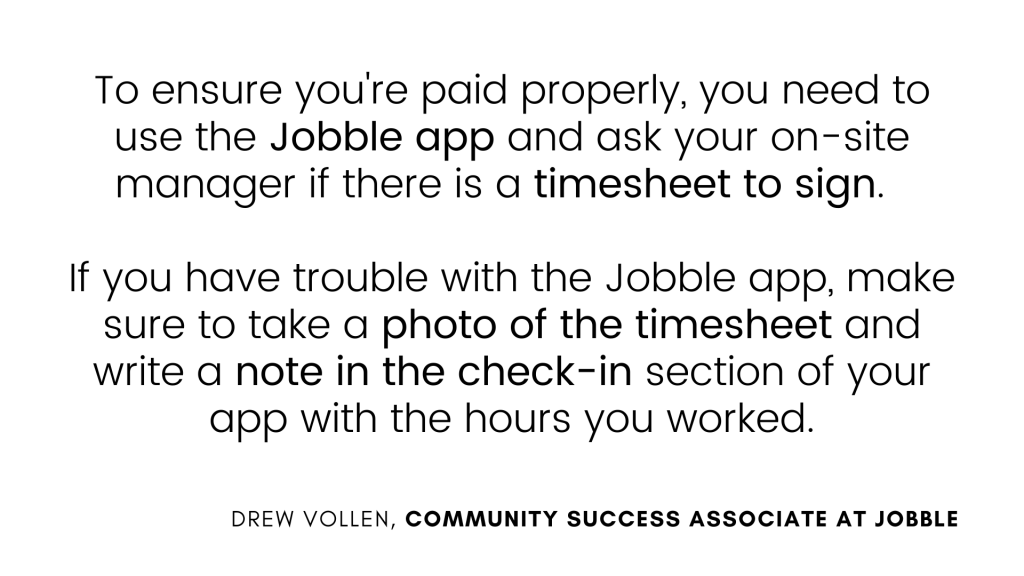 When you Check In and Check Out on the Jobble app, it will record both the time your location. If you have any difficulty or forget to check in or check out of your shift, you can leave a note for your manager in the app. They'll see this when they review the check in data as they process payments.
What is my pay rate?
The company that hires you publishes their hourly pay or project rate in their job post. Your earnings are recorded and determined by the company you work for and you are paid out for approved hours worked. Jobble prioritizes transparency, especially when it comes to pay. Each job's pay rate can be found in the job description.
Approved hours worked aren't always the hours you see on your Jobble time card. For example, you may check in at a job 15 minutes before the shift starts. Your time card would say, "8:45 AM." If the job started at 9:00 AM, that would be the time your work starts and that's when you're considered on the clock. The hiring manager who reviews your hours determines what your approved hours worked actually are.
Many Jobblers also ask questions about overtime or holiday pay. As an independent contractor, you aren't entitled to holiday or overtime laws. If you're working for a business partner who offers overtime or holiday pay rates, you'll be directly notified.
When do I get Jobble payments? And when do I receive the money?
After a job ends, the business that hired you has up to seven business days to review timesheets and submit Jobble payments. Payments are made based on the approved hours worked. Some jobs may pay earlier than the seven business day Payment Processing Timeline, but they have up until that timeline runs out before a payment is considered late. Because this timeline is based on the last date of the job, it doesn't always mean there is a set weekly or bi-weekly payment cycle.
Jobble payments are all processed and calculated based on business days or weekdays. Payments are not processed on weekends or holidays when banks are closed.
If you were added to the job late or removed from the job, you are still expected to be paid out for any approved hours worked. If you are marked a No-Show, that means the hiring manager did not approve any hours worked for payment. You can appeal a No-Show if you provide proof of work, by reaching out to our support team.
You will receive an email notification when a payment has been made to your Jobble account. After a payment is made to your account, the funds could be immediately available or take a few days of processing time depending on your bank account.
What do I do if I am paid wrong or not paid at all?
If you have any questions or concerns about your payment, the first place you should check is your Jobble app. If your questions aren't answered, you can view articles on our 24/7 online resource center or contact our support team directly by emailing Community@Jobble.com. Make sure you include your name, Jobble email address, the name of the company you worked for, and the dates and times you worked. From there, the Support Team will be able to help you with your inquiry.
Jobble is dedicated to connecting millions of gig workers with actively hiring companies across the U.S. To do that, we want to make sure you feel confident with the way your payments are processed and handled. To ensure the process feels legitimate and credible, we encourage best practices like these to both our Jobblers and our businesses every day.
Learn More