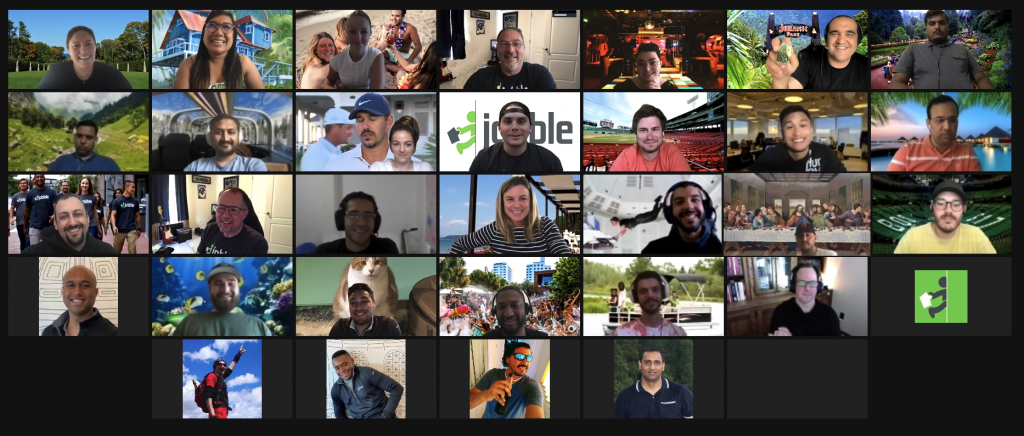 Every day, our Jobble HQ team has been hard at work across the country. Our crew does everything from finding jobs for you to work to doing the development work needed to improve our app. One of the fun ways that we add some laughter and silliness to our day is by sharing Dad Jokes with each other. In celebration of Father's Day, we wanted to share some of our favorites with you. Get ready to laugh, roll your eyes and tell these jokes as your own!
Also, here's a special shout out to our two best Dad Joke jokesters: Schalk and Viral! 👑 They hands down share the most (and the funniest) jokes. They also earn the most crying laughing face emojis from our whole team.
---
Dad Jokes from our Jobble Team
Q: Do you know where I store all my dad jokes?
A: In a dad-a-base!
😂 😂 😂
Science tip: You can distinguish an alligator from a crocodile by paying attention to whether the animal sees you later or in a while.
😂 😂 😂
Q: What do you get when you cross an angry sheep and an angry cow?
A: Two animals in a baaaaaaad moooooood.
😂 😂 😂
If two vegans are fighting… Is it still considered beef?
😂 😂 😂
Q: What is Forest Gump's WiFi password?
A: 1 forest 1
😂 😂 😂
Q: What does it mean if it's the third time you're late for work in a week?
A: It's Wednesday.
😂 😂 😂
You heard of that new band 1023MB? They're good but they haven't got a gig yet.
😂 😂 😂
Someone asked me to name two structures that hold water. I was like "well damn."
😂 😂 😂
I found a spider living in my keyboard … It's OK, It's under Ctrl.
😂 😂 😂
Q: What kind of bagel can fly?
A: A plain bagel.
😂 😂 😂
Q: What kind of computers sing?
A: A Dell
😂 😂 😂
Neil Diamond was actually born 'Neil Coal' … but then the pressure got to him !!!
😂 😂 😂
Q: Why is the ghost lonely?
A: He got no body.
😂 😂 😂
A good night's sleep doesn't happen overnight 🌙
😂 😂 😂
Astronomers got tired after watching the moon go round the earth for 24hrs … so they decided to call it a day … 🌝
😂 😂 😂
Q: What'd the buffalo say when he dropped his kid off at school?
A: Bison
😂 😂 😂